Best ever selection of food and drink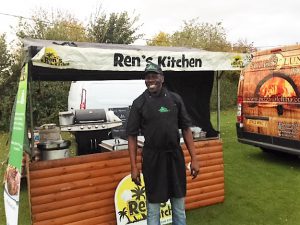 This year's Tring Festival of Fire promises the widest selection of food and drink since the reinvention of the event five years ago. A whole host of regulars are returning including Howes Fish and Chips, SoleLuna Pizza, Ashridge Delicious with their Giant Pans, Ren's Carribean shack, Carlito's artisan coffee and Tony and his roasted chestnuts. Joining them for the first time this year are Absurd Bird offering 'deep south' fried chicken, South African street food from the Now Now Food Company and the Spitfire Barbecue.
"The increased number of enquiries for food pitches reflects the reputation that the event has developed over the past couple of years", explains volunteer coordinater Vicky Butterworth. "Of course it's a delicate balancing act of keeping our loyal stall holders happy, but broadening the offer for the customer and keeping queuing time down. One things for sure, the quality will again be extremely high".
Visitors can look forward to another great family night out, with all money raised going to support sport in the local community. Discounted tickets available online until the end of October.